↑ penny universities
"For a single penny, a man could gain admittance to a coffee shop and stay as long as he like." The History of Coffee Houses, Scott, drift away.coffee
Did the first recorded Western coffeehouse-cum-penny university (c.1651) in Oxford enable a seepage of that University's discourse toward the commons?
A Brief Description: plain text version from "Symbols of Behavior in mid-17th Century English Coffee Houses", S. Shriner, 2016
_
The Womens Petition Against Coffee, London, 1674
"The coffee house...is likely also to be the issuer of the token. These establishments, especially in London, also served as shops for the citizenry. Some, including Morat's, also functioned as booksellers, stationers and post offices." footnote 26, Ibid, Shriner
"While the coffeehouse is rightly associated primarily with print and scribal publications because it was an increasingly important venue for the reading and distribution of such materials, the coffeehouses were also important sites for the display of visual images as well."
B. Cowan, 2005
"A 1661 tract complained that since coffeehouse conversation pro- ceeded with ''neither moderators, nor rules'' it was like ''a school . . . without a master.'' ''Education is . . . [in the coffeehouse] taught without discipline. Learning (if it be possible) is here insinuated without method."
Ibid, Cowan
Chapter X: THE COFFEE HOUSES OF OLD LONDON -- All About Coffee, William H. Uker
Numerous coffeehouse broadsheets transcribed into plain text format
---
Lecture 2: Coffee and Coffeehouses, from a module of lectures developed by Farshid Emami and Hessam Khorasani Zadeh, Global Architectural History Teaching Collaborative (GAHTC)
---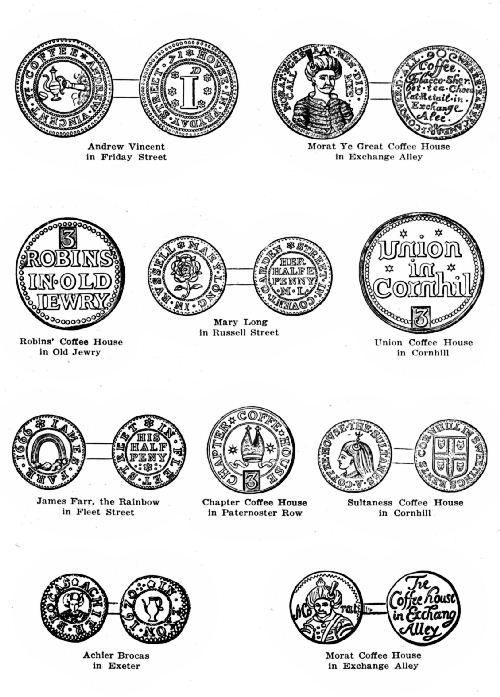 _
_
____________________________
The Rules and Orders of the Coffee House.
Enter, Sirs, freely, but first, if you please, Peruse our civil orders, which are these.
First, gentry, tradesmen, all are welcome hither,
And may without affront sit down together:
Pre-eminence of place none here should mind,
But take the next fit seat that he can find:
Nor need any, if finer persons come,
Rise up to assigne to them his room;
To limit men's expence, we think not fair,
But let him forfeit twelve-pence that shall swear;
He that shall any quarrel here begin,
[Pg 61]Shall give each man a dish t' atone the sin;
And so shall he, whose compliments extend
So far to drink in coffee to his friend;
Let noise of loud disputes be quite forborne,
No maudlin lovers here in corners mourn,
But all be brisk and talk, but not too much,
On sacred things, let none presume to touch.
Nor profane Scripture, nor sawcily wrong
Affairs of state with an irreverent tongue:
Let mirth be innocent, and each man see
That all his jests without reflection be;
To keep the house more quiet and from blame,
We banish hence cards, dice, and every game;
Nor can allow of wagers, that exceed
Five shillings, which ofttimes much trouble breed;
Let all that's lost or forfeited be spent
In such good liquor as the house doth vent.
And customers endeavour, to their powers,
For to observe still, seasonable hours.
Lastly, let each man what he calls for pay,
And so you're welcome to come every day.