↑ 1883
1863 - Educator Charles F. Dowd proposes standardized time zones mediated by U.S. railways to his students
1869 - Dowd presents his idea of four zones to the New York Railroad Committee
1870 - Dowd publishes "A System of National Times for Railroads" aligning Washington D.C. as Prime Meridian (Mean time)
...
1883 - Time zones implemented in the U.S. with Greenwich, England as Prime Meridian (Mean time)
1884 - The International Meridian Conference meets in Washington D.C. to discuss and assign global zoning
1918 - U.S. Congress passes the Standard Time Act
...
Railway time
On November 18, 1883, "the Day of Two Noons," America's railroad companies implemented a standard time system of four time zones, Eastern, Central, Mountain, and Pacific. Within each zone, local clocks were synchronized to "railway time". Many citizens initially resisted the conversion through retaining previous, localized calibrations based on midday alignment, widely held as "God's Time".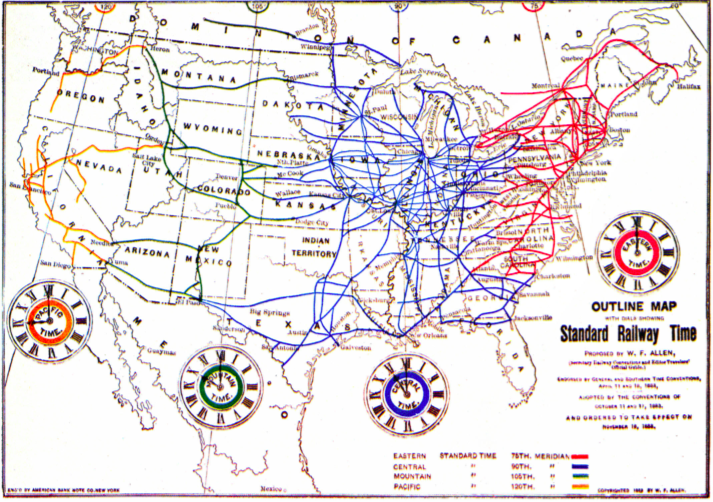 In October, 1884, the International Meridian Conference set the stage for globalized assignations.
25 participating countries of the 126 sovereign nation-states
Austria-Hungary
Brazil
Chili
Columbia
Costa Rica
France
Germany
Great Britain
Guatemala
Hawaii
Italy
Japan
Liberia
Mexico
Netherlands
Paraguay
Russia
San Domingo
Salvador
Spain
Sweden
Switzerland
Turkey
United States
Venezuela