↑ Fixtures of another kind - seminar
Fixtures of another kind /
penny universities and leaflets of the White Rose
a Southland Institute elsewhere seminar
with Adam Feldmeth
March 23 - March 27, 2022
Wed/Thurs/Fri 7-9pm Central Time, Sat/Sun 9am-3pm Central Time
The Luminary, St. Louis, Missouri
KNOW/HOW: books + print and Black Coffee.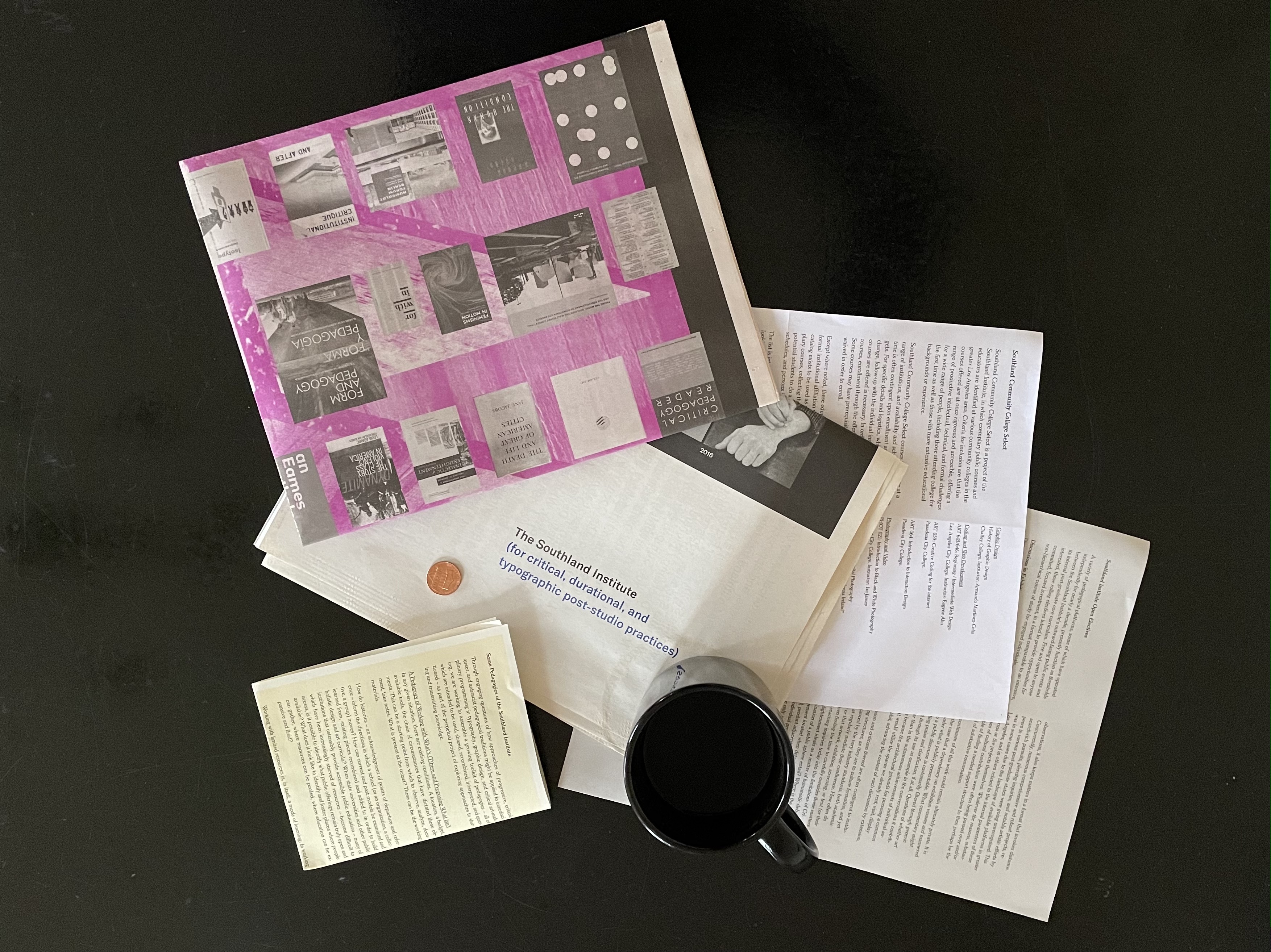 In temporary residence at The Luminary (St. Louis, MO) spring 2022, the Southland Institute offers a 5-day seminar (3/23 - 3/27), Fixtures of another kind / penny universities and leaflets of the White Rose with co-director Adam Feldmeth, through Southland Institute's Case-Study Curriculum, an ongoing exploration of various pedagogical structures and offerings. Opening an inquiry into the integration of on-site social fixtures within extant cultural centers, what a/effect do add-ons, build-outs, and incorporations of cafes, bookstores, and the like have on these day-to-day, differentially allocated, shared environments?
The 16th c. advent of the Coffeehouse in the Middle East subsequently migrating a century later to anglicized Europe, there dubbed "penny universities", proved vital in the mobilization of people as secular enclaves for sober discourse and proto public-ation. Covert leaflet efforts in times of social upheaval by the White Rose provides another historical axiom to consider in this seminar as we approach the augmented conditions of commons as represented in houses of Culture today. The Luminary provides us with a preliminary, material example to consider, recently undergoing such expansions with Black Coffee. and KNOW/HOW: books + print, and the requisite contraction of its internal gallery footprint in the process, with comparative inquiry to develop towards adjacent institutions in greater St. Louis.
On Saturday, March 26, the seminar will catalyze a manifestation of course contents as a penny, a day, an open event during The Luminary public hours. On Sunday March 27, seminar participants will design and produce a collective publication utilizing the Luminary's onsite printing facilities, simultaneously collating and disseminating their 5 days together.
This seminar (in-person and elsewhere through Zoom) is tuition-free for participants and open to all vocabularies and walks of life. Mutual exchange comes in the way of commitment to the duration of learning together over a five day period. Due to scalability, please enroll only if the dates and times are wholly feasible to your personal schedule. Contact with questions.
---
Case Study Curriculum | Southland Institute
With a continued investment in staying with the questions of a responsive learning environment -- and an observation that to this end, the Southland Institute curriculum itself has been ever evolving through these last years -- past, present, and future compositions of Southland Institute offerings will be considered as Case Study Curricula. Enabling a breadth of pedagogical approaches to be proposed and engaged through variously structured curricula, a Case Study Curriculum invites conceptually aligned courses, talks, and workshops to pursue uncertain approaches and curiosities in critical, durational, and typographic post-studio study, through complementary themes, concepts, and curation, with the intention of self-reflexive assessment along the way -- An exposed infrastructure wherein the space of learning is not given or received, but proposed as a component of mutual study in itself.
---
The Southland Institute (for critical, durational, and typographic post-studio practices) is dedicated to implementing meaningful, affordable, sustainable alternatives in postsecondary design and art education in the United States. Toward the potentials of unaccredited, non-terminal education, the Southland Institute attends to the gaps, grey areas, interrelationships, and common boundaries between these concerns, as well as their connection and relation to broader questions and circumstances.
---
Adam Feldmeth's work engages the social elasticity of cultural production through actualizing situated discourse with those involved in its materialization. Over the past decade, he has been the organizer of stone soup: a discussion forum for individuals without institutional affiliation; Discussions in Exhibitions: public-initiated gatherings within ticketless venues; and in Spring 2020, a stone's throw: an online gathering for inquiry-motivated, discursive engagement among those involved in the production of visual culture as social action. Recent seminars include: Cobbles: montage and the urban street and Punctual Momentum | on the dot, down the line. He is a co-director of the Southland Institute.
---
KNOW/HOW books + print is a space for creative research and communing located inside of The Luminary. Since its opening in June of 2021, the shop has sold over 700 copies of large & small press artist books, poetry, criticism, and dissent to the St. Louis community. The space, which was designed by Kalaija Mallery as a leveling place for artists and activists, also houses a copy-shop and cafe space to support the access and exchange of information in print.
---
Black Coffee. is a coffee shop inside of The Luminary's KNOW/HOW books + print that sources and serves coffee from all over the world. It's their mission to support farmers, roasters, and brands of color by working on their farms, purchasing their beans, and highlighting their stories. Owned and operated by Aloha Mischeaux, Black Coffee. has been in high demand on Cherokee Street and beyond since they joined The Luminary in Summer of 2021.